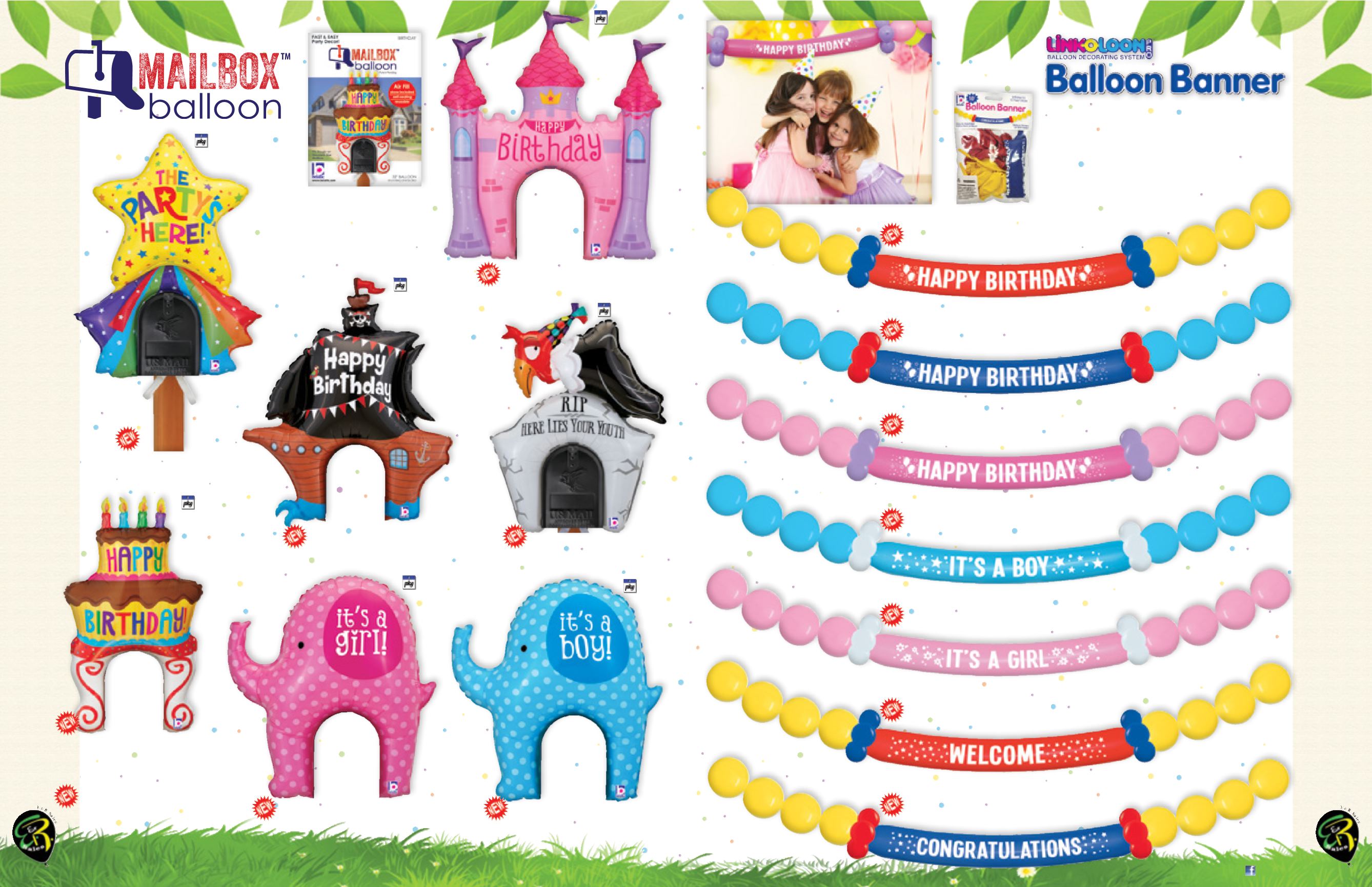 2
—
T
oll
F
ree
800-234-7474
or
804-744-8000
F
ollow
us
on
F
acebook
—
3
NEW Mailbox Balloons™
NEW Balloon Banners
M
ailbox
B
alloons
sold
in multiples
of
1
LINK-O-LOON B
alloon
B
anner
B
alloons
sold
in multiples
of
1
4350
(32")
MSR $6.99
4360
(34")
MSR $6.99
4361
(34")
MSR $6.99
4362
(31")
MSR $6.99
4363
(31")
MSR $6.99
4364
(31")
MSR $6.99
4365
(33")
MSR $6.99
Tie these fun Self-Sealing,
Consumer Air Filled balloons to
YOUR mailbox! Straw included.
Reusable!
4366
Mailbox Balloon Display
Free with 30 Mailbox balloons
Inflates to 10 feet wide and printed on
both sides! Each package contains one
660 LINK-O-LOON printed latex, eight
9" LINK-O-LOON balloons, and eight
5" latex balloons.
Birthday 67017
(1 Fashion Red 660 LOL printed latex, 8 Fashion Yellow
9" LOLs, and 8 Fashion Royal Blue 5" latex balloons)
Birthday Boy 67015
(1 Fashion Royal Blue 660 LOL printed latex, 8 Fashion
Blue 9" LOLs, and 8 Fashion Red 5" latex balloons)
Birthday Girl 67016
(1 Deluxe Fuchsia 660 LOL printed latex, 8 Fashion
Bubble Gum Pink 9" LOLs, and 8 Deluxe Lilac 5" latex balloons)
It's a Boy 67018
(1 Fashion Blue 660 LOL printed latex, 8 Fashion Blue
9" LOLs, and 8 Fashion White 5" latex balloons)
It's a Girl 67019
(1 Fashion Bubble Gum Pink 660 LOL printed latex, 8 Fashion
Bubble Gum Pink 9" LOLs, and 8 Fashion White 5" latex balloons)
Welcome 67020
(1 Fashion Red 660 LOL printed latex, 8 Fashion Yellow
9" LOLs, and 8 Fashion Royal Blue 5" latex balloons)
Congratulations 67021
(1 Fashion Royal Blue 660 LOL printed latex, 8 Fashion
Yellow 9" LOLs, and 8 Fashion Red 5" latex balloons)